The Top 9 Korean BBQ Restaurants in America!

Korean BBQ is one of the biggest thrills in dining. There's something about grilling your own meal that just appeals to, well.. everyone. Fresh grilled meats and vegetables are a healthy dining out option but Korean BBQ is more than just the food. The companionable and entertaining atmosphere found around the grill is unmatched in any other dining setting. Korean BBQ is just a fun way to spend a night out.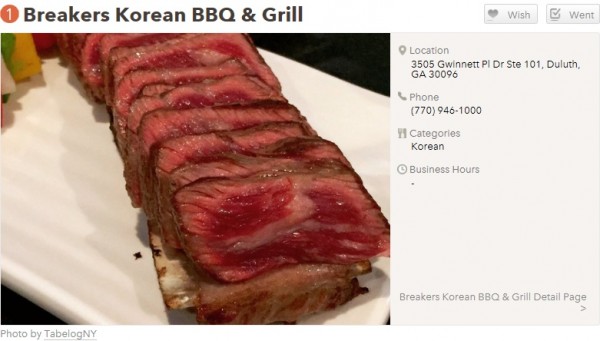 For our top Korean BBQ pick we travel to Duluth, GA. Breakers Korean BBQ offers a different BBQ dining experience. The restaurant oozes sophistication and class and offers a zen-like environment. White booths, low lighting, bamboo chandeliers and ceramic pottery displayed throughout make up the décor. The BBQ grills are down-drafted to avoid annoying metal hoods hanging over each table. They serve superior meat products such as 5 layer pork belly, 21 day aged short ribs, and use ribeye instead of the traditional tenderloin for their bulgogi. There are even a few surprises on their menu, such as their berry house salad and sweet potato bisque. Breakers Korean BBQ really breaks the mold for Korean BBQ and earns our top spot!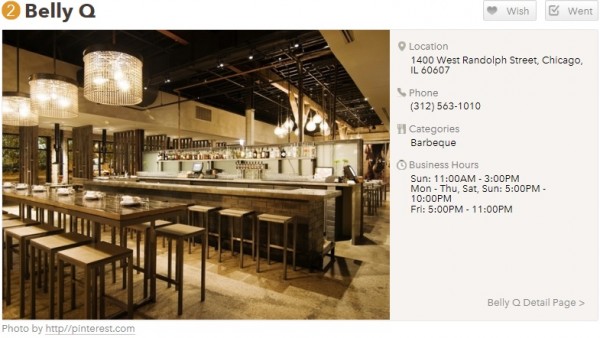 If you are tired of traditional Korean BBQ and are looking for something a little different, try BellyQ in Chicago, IL. This is Korean fusion at its best. A trip to one of their grill tables will get you a selection of meats, sides and desserts all picked out by the chef. But their menu boasts other interesting dishes such as Lemongrass Salmon and Mac N' Cheese all wonderfully prepared with Korean influences. The restaurant has urban in atmosphere and décor. The Chef's Quarters offers a private dining room and lounge with karaoke. There is also a bar, outdoor patio, communal tables up front in the noodle house and of course, grill tables separated by wood partitions. BellyQ offers the latest trend in Korean BBQ.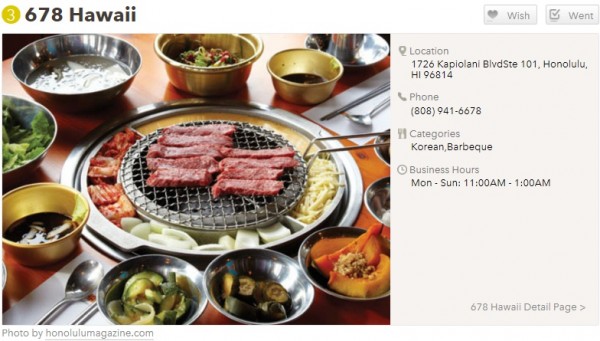 When you go to a Korean BBQ restaurant the good time is part of the appeal. We recommend 678 Hawaii in Honolulu. The cool, kitschy décor and high tech innovation is part of the draw. Servers are young and fun and wear earpieces so they can talk to each other. There are also interactive call buttons that directly communicate with servers watches. You never have to wait for anything. The restaurant itself is modern and sleek, metal hood vents at each table and metal can chairs with built in purse storage. The décor is overloaded with hilarious cutouts of Korean comedian Kang Ho Dang, the restaurant founder. They offer different flavored soju in gold teapots and K-pop is always playing in the background. Their pigskin special is a restaurant favorite. 678 Hawaii is always busy, but people say the wait is never long and an inviting array of appetizers is waiting for you when you get seated. Be sure to sign their guest wall before you leave.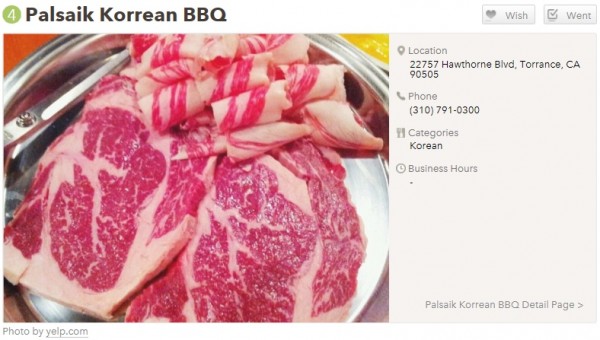 If you are familiar with Korean BBQ, you know about pork belly. For many it's the only thing to order. To these people we say check out Palsaik Korean BBO in Los Angeles, CA. Their focus is this wonderful meat and all its health benefits. Pork belly is offered in eight different flavors, which is the direct translation of the restaurant name. Each flavor is supposed to benefit a different health concern. They offer a Palsaik Set Menu where you can try a sampler of each different pork flavor and it is their most popluar dish. Set in a strip mall in popular K-Town, the restaurant is minimalist and modern. But everyone knows the real draw here is the food. Palsaik is the perfect place to give the other white meat a try. And let's face it, nothing goes better with soju!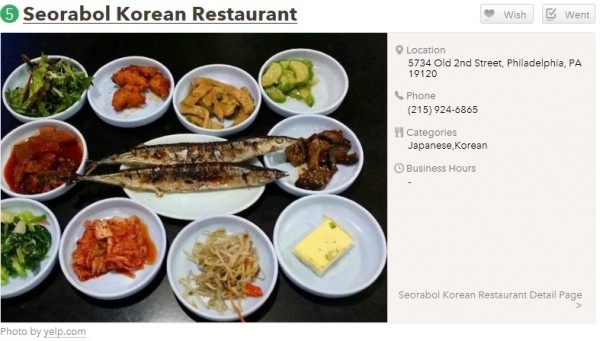 Asian restaurants are all about hospitality, so our next pick goes above and beyond in this department. Seorabol Korean Restaurant in Philadelphia, PA is known for their over the top customer service. Little touches such as consistently replacing the grill top between cuts of meat, pitchers of water for the table and complimentary cinnamon dessert tea really keep customers coming back. New to BBQ? No worries, the staff kindly walks you through the menu and is always in hand to man the BBQ. No wonder so many celebrities have visited. And it pays to be a regular here, Seorabol is notorious for handing out complimentary items to repeat guests. Renowned for their seafood pancake and mackerel banchan, Seorabol delivers on the food also. Seorabol is loved by their patrons, how appropriate for the City of Brotherly Love!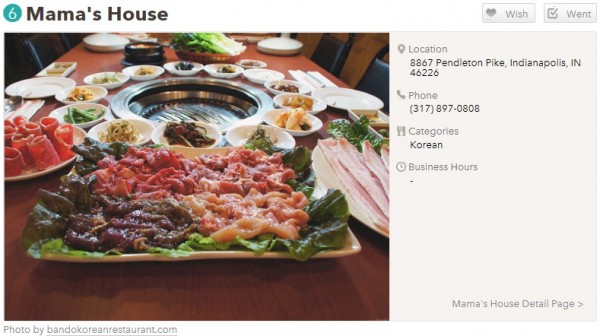 If you are one of those people who love Korean BBQ for all the banchan (sides), then this place is for you. Mama's House in Indianapolis, IN. is known for giving extensive and varied banchan with their Korean BBQ. Mama's banchan offers an array of sautéed and pickled vegetables which are the perfect complement to their selection of meats to BBQ. The banchan changes seasonally and of course, they come with free refills. For a treat book their back room for noraebang (private karaoke) and let your talent shine!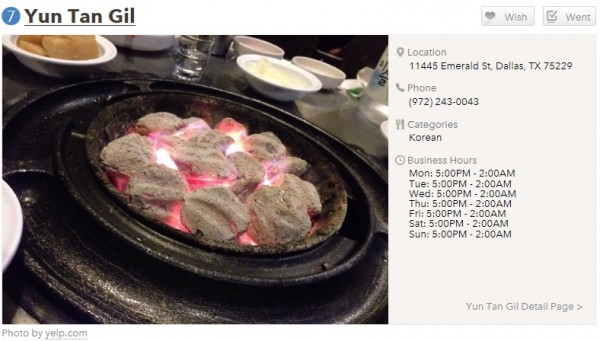 Our next Korean BBQ restaurant really pays homage to a typical Korean BBQ joint you would see in the Motherland. Yu Tan Gil in Dallas, TX offers private dining nooks with traditional metal tables and built in charcoal grills. Metal folding chairs and concrete loose rock floor complete the look. Any good BBQ always gets a little rowdy, and Yu Tan Gil offers the perfect environment to grill and just have a good time with your group. Come as you are, there's no pretension here!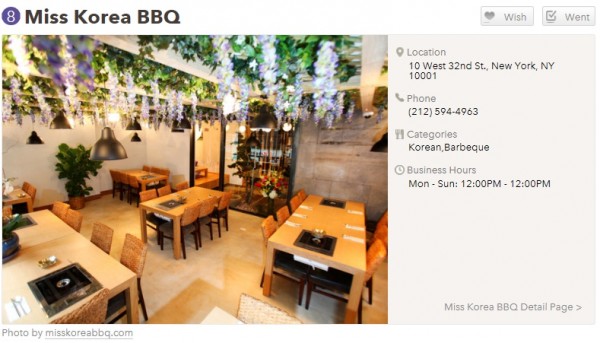 If you love Korean BBQ, then Miss Korea in New York City is a must visit. This uniquely designed space offers three levels of dining on three separate floors. The street level is traditional BBQ served in a cellar like environment. Cinder block walls, copper hood vents and communal tables compliment the nostalgic peasant food menu. The second floor offers a nature inspired environment and a course menu geared towards Korean royal court fair. Every detail is considered, from the finest ingredients to the cutting edge cooking technology. The third level focuses on Korean beauty. The space itself is visually appealing and the menu is carefully presented to stimulate all the senses. Miss Korea focuses on the healthy benefits of Korean BBQ with every menu item they offer. We guarantee Miss Korea will please at any level.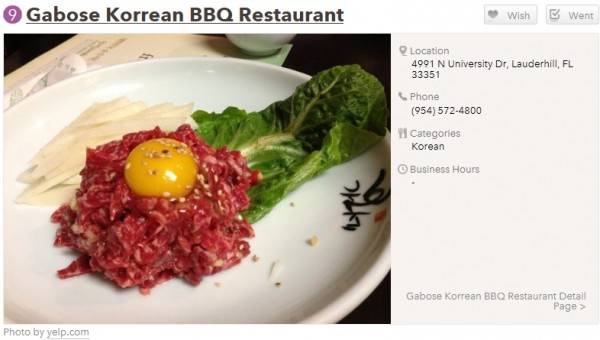 Ah.. Korean BBQ is some of our favorite food! One of the big debates among Korean BBQ lovers about the merits of a gas grill versus the charcoal BBQ. Well at our first restaurant you have the option of both. At Gabose Korean BBQ in Lauderhill, FL you pick your preference for grilling their collection of meats. There's even regular tables for those out there who prefer a professional do the work. But save room for dessert. Gabose boasts and extensive menu for sweet treats including huge Korean donuts and an over the top red bean shaved ice sundae.